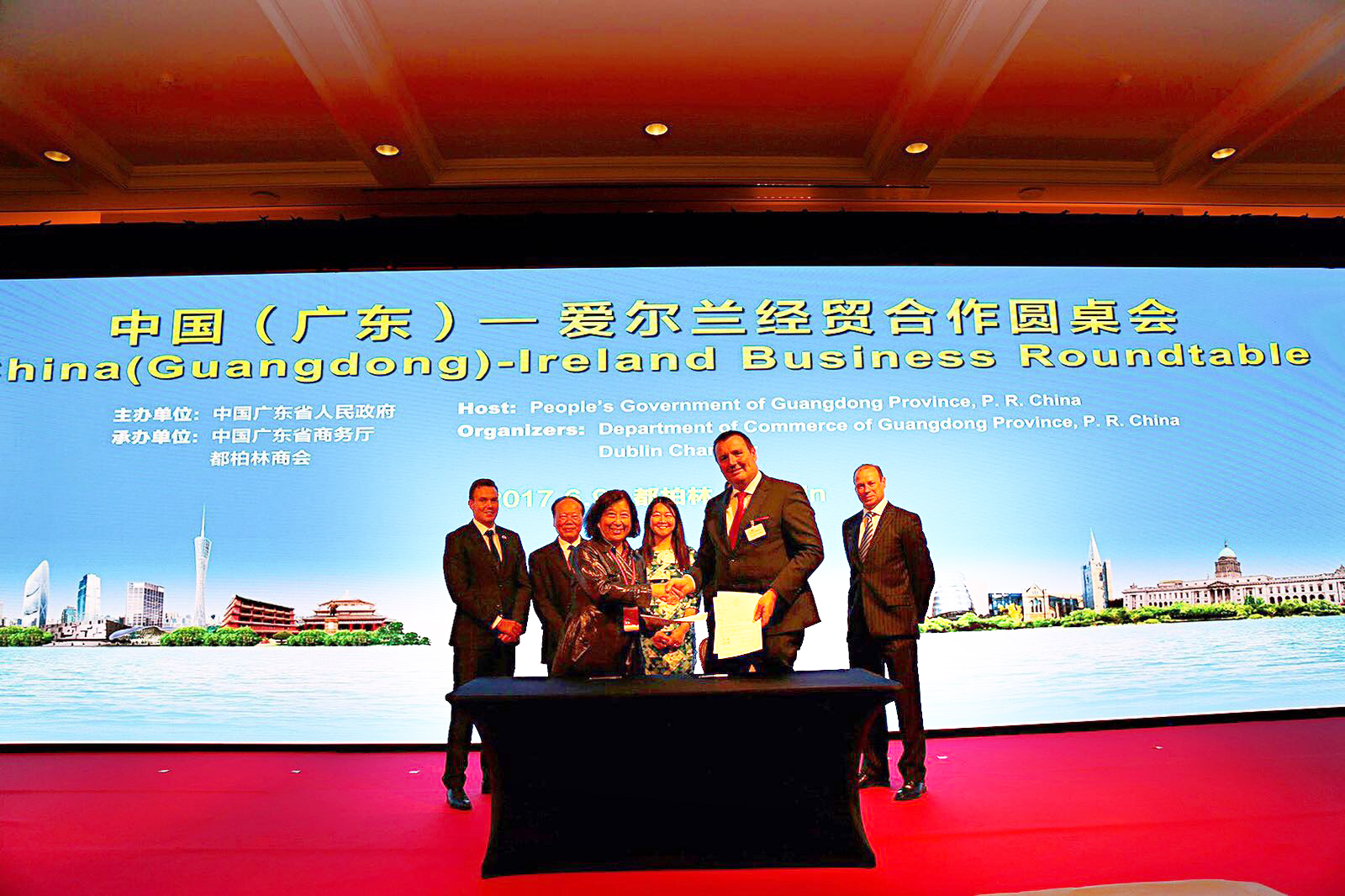 On Friday the 9th of June, Irish Premium Oysters, located at Traigheanna Bay, Co. Donegal hosted a significant Chinese delegation headed up by Mr Li Qinwu the Secretary General of the Guandong Enterprise Association for foreign Investment and Ms Kairan Xie of the Guandong Council for the promotion of small and medium enterprise.
The delegation flew into Donegal airport and from the outset they were highly impressed by the scenery and the welcome they received from Mr Edward Gallagher of Irish Premium Oysters, his family and staff. The visit was coordinated by Ms Yan Zhao, China Sales Director for Jade Ireland Seafood.
Accompanying the delegation was Ms Susan Sun of Shenzhen North-South Import-Export Ltd.  Ms Sun has been introduced to Edward's Award-Winning Oysters by Ms Yan Zhao of Jade Ireland Seafood, who market a range of Seafood Products in China under the Ocean Jade Brand and represent Irish Premium Oysters in China. According to Ms Sun the quality of the Irish Premium Oysters were exceptional and the purpose of her visit was to sign contract with Edward for 192 tonnes of his Oysters for the Chinese market.
Commenting on the deal, Mr Edward Gallagher said that the success of his product was down to the unspoilt unique location in west Donegal and being able to convey the naturalness of west Donegal through the company website, in promotional material and stunning local photography, it was only natural that buyers would want to come here to see it for themselves.
Comparing the uniqueness of the west Donegal Oysters to famous wine producing vineyards in Europe, he said some products simply cannot be recreated anywhere else. Pristine brackish water, tidal currents and peaty fresh water, produce an Oyster which is unique to Traigheanna Bay.    This major deal with the Chinese company will lead to the limited supply of the much sought after Oyster being marketed as the finest oyster in the World
Commenting on the Deal Deputy Pat the Cope Gallagher, Leas Cheann Comhairle of Dáil Eireann welcomed the Chinese Delegation to Donegal, and stated that this was a good news story for west Donegal and a vote of confidence for  Irish Premium Oysters, the Gallagher family and all their staff. The newly secured market deal with the Chinese Delegation is a very significant development for the company and will provide great security moving forward for the company and their employees. Irish Premium Oysters offer to the market top quality oysters, taken and farmed in the most pristine waters in Western Europe which guarantees an absolute first class product to all their customers and now to the Chinese market which they have newly secured as a result of this deal. I wish to compliment all those involved in this deal and wish the new venture every success and to acknowledge that investments such as this make a significant contribution to coastal communities' right throughout the west of Ireland and Donegal in particular.