Donegal Oysters with Bacon, Cabbage and Scorched Guinness Sabayon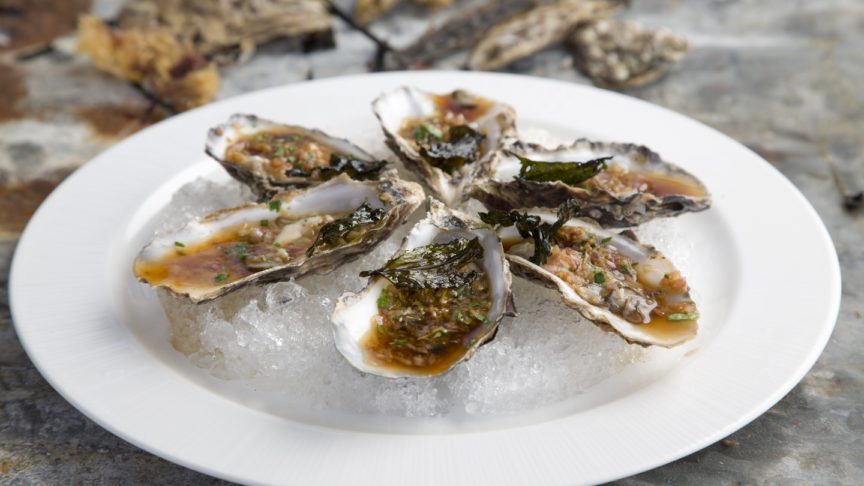 Ingredients
36 Irish oysters
12 lemon wedges (2 lemons, 6 wedges from each)
1 head of Savoy cabbage, shredded
200g diced bacon
50g Irish butter
20ml vegetable oil
Salt and ground white pepper
4 egg yolks
80g sugar
1 can/pint of Guinness (you won't need the full pint but to get the head you'll need to pour it all)
To serve: 500g rock salt 50g chopped dill 50g chopped parsley


Method

Pre-heat an oven to 180 degrees Celsius/gas 4.

Shuck the oysters, making sure not to lose the juices. Heat a heavy-based non-stick pan. Add the oil and the butter and let it melt together. Sauté the bacon until golden, then add the shredded cabbage. Season with salt and pepper.

Lay the oysters out on oven trays and divide the bacon and cabbage mix between the shells. Place in the pre-heated oven for four minutes.

While the oysters are in the oven, place the egg yolks, sugar, the head of a pint of Guinness, plus four tablespoons of Guinness, into a large bowl and whisk until it is thick, creamy and has doubled in bulk.

Mix the rock salt with the herbs and divide between six plates.

Place six oysters on each plate, along with two lemon wedges. Spoon a dollop of Guinness sabayon over each oyster and scorch with a blowtorch, or place under a very hot grill for 20 seconds.